【2days short program】8/24~8/25-𝟐𝟎𝟐𝟐 𝐂𝐇𝐈𝐍𝐄𝐒𝐄 𝐌𝐄𝐃𝐈𝐂𝐈𝐍𝐄 𝐂𝐀𝐌𝐏 (deadline 8/7) for int'l students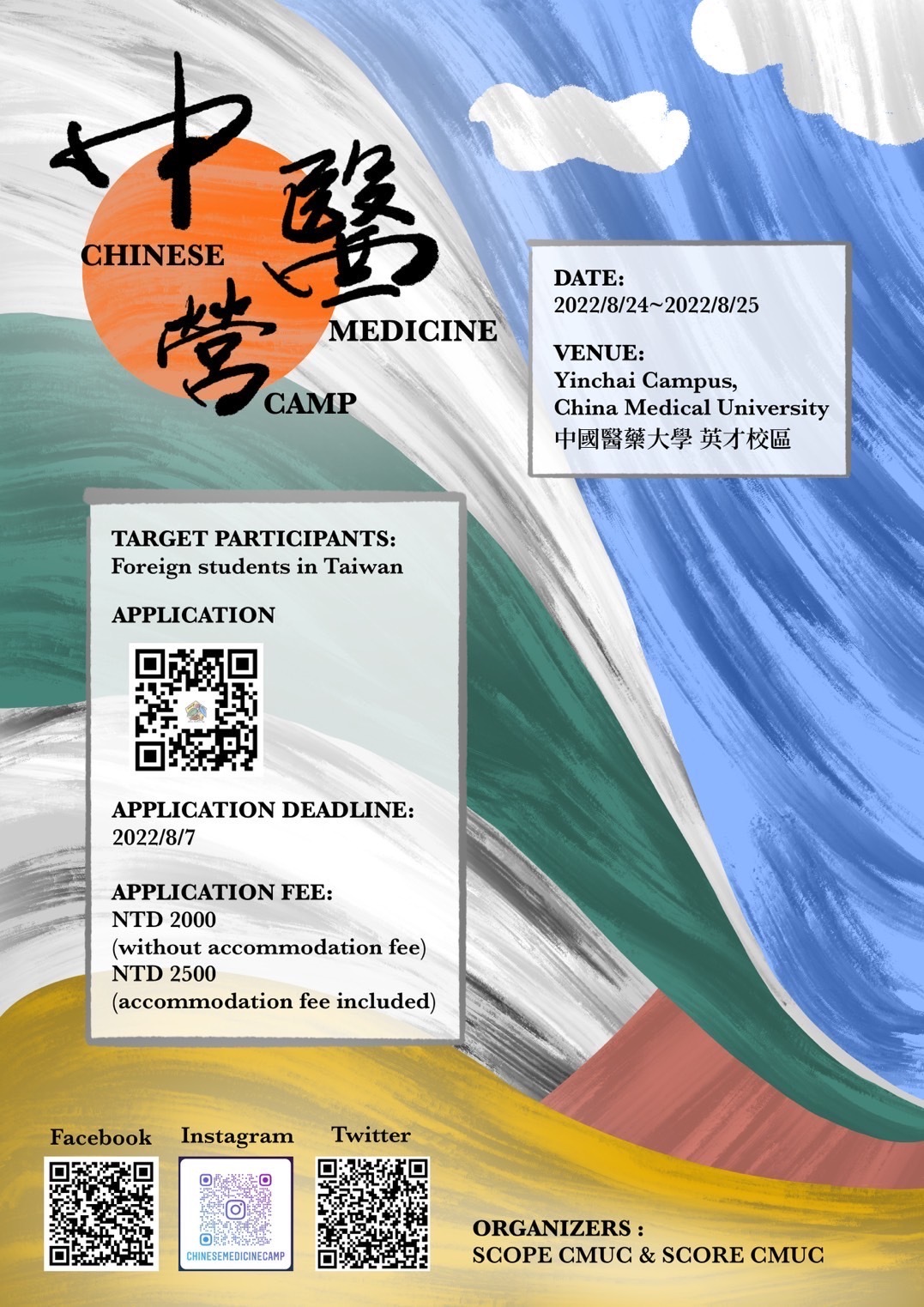 👁️𝟐𝟎𝟐𝟐 𝐂𝐇𝐈𝐍𝐄𝐒𝐄 𝐌𝐄𝐃𝐈𝐂𝐈𝐍𝐄 𝐂𝐀𝐌𝐏
🙋‍♂️Are you interested in the mysterious kong fu?💪
🙋‍♀️What is Chinese medicine?🌿
🙋What are Ying and Yang?🌤
🙋🏼‍♀️What are five elements(Wu Xing)?⭐️
Hi, we are students majoring in Chinese Medicine from China Medical University. If you are curious about anything mentioned above,
here comes an exciting information that we must share with you --This August, there would be a 2-day camp introducing what
Chinese medicine (or TCM for short) is for international students in Taiwan!
Only in two days, there are various lectures well prepared for you, which involves FUNDEMETAL THEORY of TCM, HERBAL MEDICINE,
ACUPUNCTURE, QIGONG (breath exercise,🏃‍♂️) and TCM-style TRAUMATOLOGY & ORTHOPEDICS. All lessons would be conducted in English.
Various performances such as kong-fu in different sect (Meihuaquan and Chang Hong Martial Art) are ready to impress you all.
Most importantly, we have created a wonderful platform for you and medical students in Taiwan to communicate with each other! 🥳
👁️𝐇𝐎𝐖 𝐓𝐎 𝐉𝐎𝐈𝐍
Now, please don't hesitate. Click on the link below right now to learn more and join us!😉
https://forms.gle/TNz5EktPkzY8ncEU8
The deadline of Application shall be **2022/08/07**
👁️𝐈𝐍𝐅𝐎𝐑𝐌𝐀𝐓𝐈𝐎𝐍
Date: 8/24~8/25
Location: YinCai Campus, China Medical University, Taichung
(中國醫藥大學英才校區)
Target: Foreign Students in Taiwan
Application fee: NT$2000 (without accommodation fee)
NT$2500 (with accommodation fee)
👁️𝐂𝐎𝐍𝐓𝐀𝐂𝐓 𝐔𝐒
If there's any question, welcome to contact us with the following two email addresses:
cmucmscope@gmail.com
cmucscore@gmail.com
✨️For latest information please follow us on:
Instagram: https://instagram.com/chinesemedicinecamp?igshid=YmMyMTA2M2Y=
Facebook: https://m.facebook.com/2022-AugChinese-Medicine-Camp-111987824899310
Twitter: https://twitter.com/campchinese?s=21&t=6twrH5W6HUuz0P-Eg0QPAg
--------
Presented by CMUC* of SCOPE & SCORE**
*CMUC is the abbreviation of: School of Chinese Medicine, China medical University.
**SCOPE is the abbreviation of: The Standing Committee on Professional Exchange,
while SCORE is the abbreviation of: The Standing Committee on Research Exchange.
Both are departments under IFMSA (The International Federation of Medical Students Associations).