【公告】6/8 You are invited to the first webinar series of NCKU DBBS and UM Biomedical Science!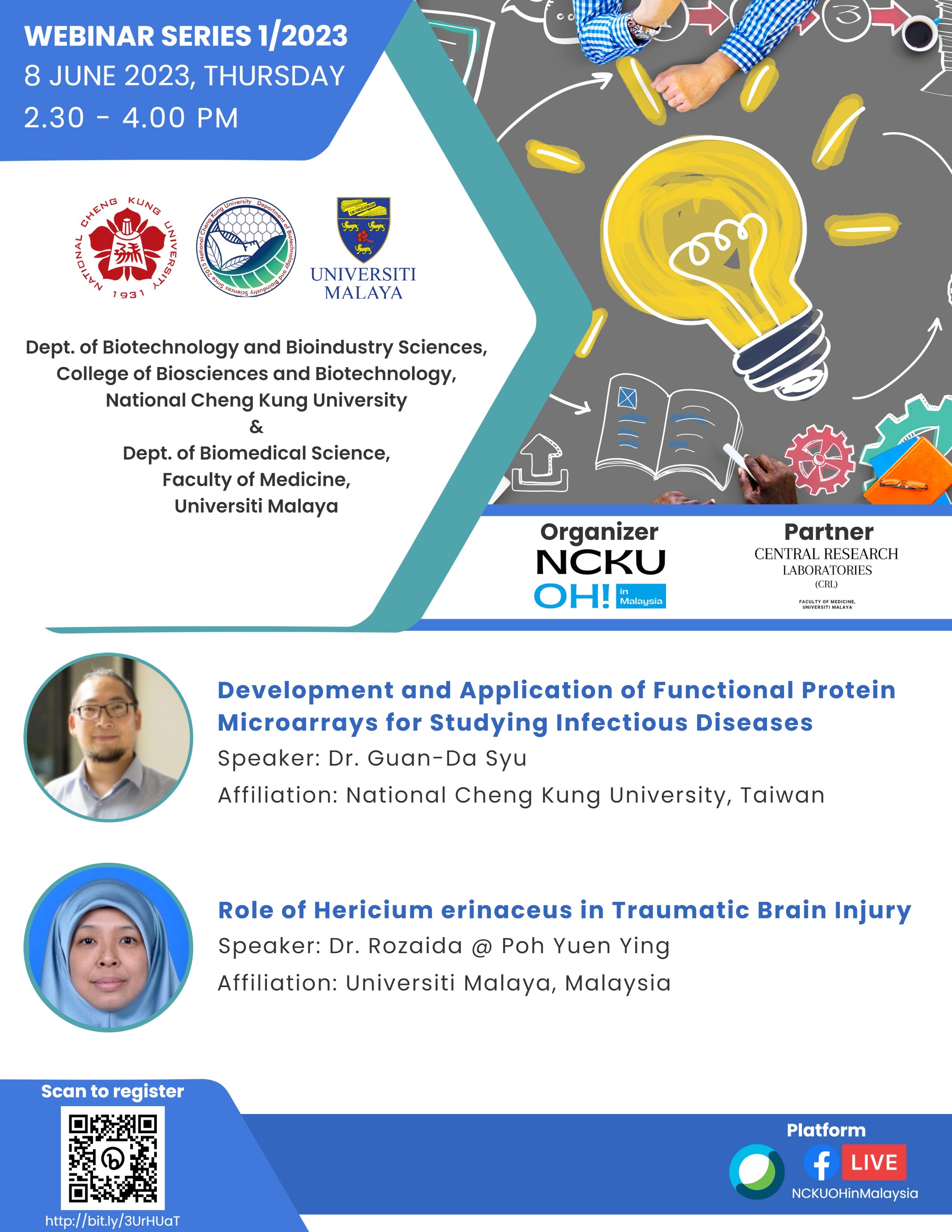 Join us on 8 June (Thursday) and learn from our experts.
Talk 1
Development and Application of Functional Protein Microarrays for Studying Infectious Diseases
Dr. Guan-Da Syu
Dept. of Biotechnology and Bioindustry Sciences, College of Biosciences and Biotechnology, NCKU
Talk 2
Role of Hericium erinaceus in Traumatic Brain Injury
Dr. Rozaida @ Poh Yuen Ying
Dept. of Biomedical Science, Faculty of Medicine, UM
Time: 2.30pm - 4.00pm (Malaysia & Taiwan) / 1.30pm - 3.00pm (Thailand & Vietnam)
Platform: Cisco Webex / https://www.facebook.com/NCKUOHinMalaysia
Registration link: https://bit.ly/3UrHUaT
(The meeting link will be emailed after successful registration)
Please feel free to share about this event with your colleagues who may be interested in participating.
Thank you and hope to see you at the event.

NCKU Overseas Hub in Malaysia
Address: NCKU-UM Hub, Level 3, Block C, Faculty of Engineering, Universiti Malaya, 50603 Kuala Lumpur, Malaysia.
Email: malaysiahub@ncku.edu.tw
Phone: +60142281370 (Afiqah)
Website: http://overseashubs.ncku.edu.tw/
Facebook: https://www.facebook.com/NCKUOHinMalaysia/
**Kindly acknowledge receipt of this e-mail when necessary. Thank you.**